When making the switch from face-to-face to online learning, there are plenty of things to consider – and one of the most important things which can get overlooked is your classroom set-up.
A successful virtual classroom should work to serve the learning that is taking place, and should essentially eradicate the barrier of distance between the leader and the learners; the aim is to get participants engaged on the same level as if they were in the room with you.
It's no surprise to you that since the start of the Covid-19 pandemic, many aspects of all of our lives have gone digital this year; everything from schooling, shopping, G.P. and Vet appointments, and now our workplace learning and development too.
Before the pandemic, many people had not considered what constitutes a great virtual set-up, and so it's understandable that not everyone has got it right!
Now that we know virtual learning is here to stay, it's time for leaders conducting online learning to get their virtual classrooms right.
Today, we share how to set up the perfect virtual classroom, starting with your technology.
Setting the Scene – Background
, Learning Aids and Props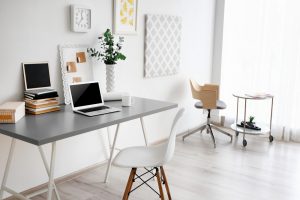 When setting up your virtual classroom, the first thing you must consider is your setting.
Think about the background. This might sound simple, but you'd be surprised at how many people get this wrong! You might be inclined to conduct your presentation in the place you usually work from, but think about if this a suitable setting. The ideal background environment should be engaging and not too plain, but also not busy and distracting – it's a fine line.
If you normally work next to a window, this is going to backlight you and cast you in shadow so you should avoid working near windows; we will cover lighting in more detail later on.
Moving your home office space might not be the easiest task, especially if you're working from a desktop instead of a laptop, but getting your setting right is essential. Trying to deliver learning when people can't see you properly or are distracted by a chaotic background is going to make them switch off and think about where you were on holiday in the picture behind you, rather than listening to what you're saying.
WebinarNinja, a well-respected software platform in the start-up space, has a great resource on getting your background just right, which you can read here.
Are you going to be using any props or learning aids during your presentations? You don't want to get to your whiteboard presentation to discover that your digital whiteboard or tablet has a flat battery or that the pen isn't working, so always test them and their connection to your platform of choice beforehand.
Next, let's look at your hardware.
Your Screen, Microphone and Webcam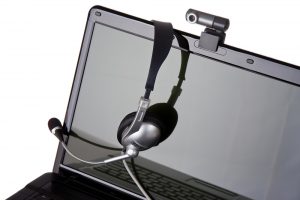 Your hardware encompasses your screen, your microphone and your webcam.
Your screen – the positioning here is the most important factor. Are you going to be sitting or standing? You should be positioned at the right height so participants can't see a big expanse at the top of your head, and not too much of your body. Eye contact is essential, so you want your eyes to be around three-quarters of the way up the screen for optimum engagement with viewers.
Using a built-in webcam is not recommended for video. Invest in a good quality webcam, and you will notice the difference – people will be more engaged and get more from the learning when the picture is clear. They will also find it easier to make eye contact with you, again creating a more similar feel to if you were co-located.
On that note – please make sure you look into the camera as you deliver the training! I know it feels strange as you can't see or calibrate your participants in the same way and it is critical to ensure this happens; this is something all the Excel training team do to connect with their participants as much as possible.
Another little trick is to position yourself a little further away from the camera than you would normally for something like a video conference. This gives you a wider field of vision, and the participants can't see specifically where you're looking, so they feel like you're giving them all eye contact. Try it for your next virtual learning session.
Finally, your microphone – another essential piece of kit that can make all the difference; a clear, crisp sound will give your words the impact needed to strike a connection with your audience – grainy sound is a big turn off for anyone listening to your presentation.
Don't underestimate the power of the microphone when delivering online learning – this is where investing in quality equipment will make all the difference.
Lighting
As I mentioned, the lighting of your setting is crucial, and one which is easy to get wrong.
Ideally, you want to light yourself from the front and to minimise other light sources in the room where possible.
A professional ring light is the best option for doing this. Many people think that the natural light from a window is enough to light them, but on camera, this can appear dark and grainy. And of course, we can't ever guarantee what the weather is going to be doing the day we're facilitating either!
A lamp placed somewhere in the background can add a nice touch, but beware that it isn't too bright or pulling focus.
Screen Sharing, Split Screen, Livestreaming or Recording Your Learning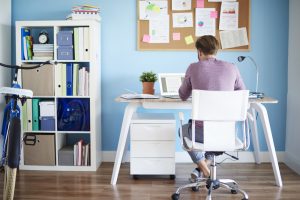 With the wealth of webinar technology available currently, there are many different options for you when it comes to hosting your online learning.
Make sure that you are familiar with the features you are going to use during your learning, such as using a split-screen, sharing your screen with participants, breakout rooms, polls etc.
Your learning will either be recorded or take place live. Either way, you need to be completely comfortable with the tech you'll be using, and the only way to do this is practice. Have at least a couple of run-throughs of your session, so you're familiar with the content and the logistics, e.g. when you need to pause or have breaks, allow learners to write things down, complete an exercise or for interaction.
Remember that there is always a risk involved with online learning, so if your class is going out live, be prepared for hiccups and don't let teething problems put you off.
Internet speeds can vary, and this can interfere with live streaming. Where possible, record your session using one of the many services available such as GoToWebinar, Zoom Video Webinar, Adobe Connect or Zoho.
How to Engage with Learners
Finally, let me share some of my top tips for engaging your audience, so your learning makes the maximum connection.
Keep videos and sections short – overly long segments with no break can turn learners off.

Smile, and keep eye contact with the camera, don't look around the camera or at yourself on the screen – look directly into it.

Provide an agenda, so people know what to expect.

Give specific

and clear

instructions when you are asking learners to participate.

Always summarise at the end of a section before moving on to a new one.
Can we Help to Deliver Your
Learning Pathway
?
I hope this guide will help when you're setting up your next online learning session. Virtual learning has never been more popular, as it has emerged as one of the success stories from Covid-19.
For more information about how we can support you to deliver online learning to your team, head to our website, which has a wide range of resources, and visit our blog too where we cover the latest training and leadership topics.
Thanks,
Tom
About Excel Communications
LEARN, GROW, SUCCEED
Excel Communications is a learning and development consultancy based near London in the U.K. For more than 30 years; we have been collaborating with clients across the globe.
Partnering with Excel empowers you to evolve your people and business by fuelling a love for learning.
We work with you to create unforgettable, customised learning experiences to achieve your vision of success and growth, with tangible results.
View our case studies here. 
We have a team of expert trainers delivering programmes across five continents in multiple languages. Call us now on +44 (0) 1628 488 854. 
Important 
If you would like to watch our leadership masterclass recordings, you can access the latest leadership complimentary guide here.