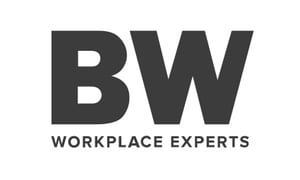 Introduction
BW is a workplace expert, specialising in workplace fit out and refurbishment. They deliver projects ranging in size from £200K to over £25M. Projects span a wide variety of sectors including legal, financial services, cosmetics, shipping, consumer goods, oil, charitable, healthcare, technology, media and telecommunications.
In October 2015 a new Chief Executive joined BW – Steve Elliot. Steve brought to the company a great deal of energy and a new vision, and this new dynamism within BW lead to a new opportunity with a global designer/fashion house. The contract would be worth in excess of £25M – the largest in BW history.
Due to the new approach brought in by Steve, and as BW had been recommended to pitch by a previous client, the decision was made to try and win this new contract.
The Training
The pitch process would involve the creation of a tender document which would be presented at an interview-style meeting. Due to the size and importance of this project the senior management team decided that a training programme was required to upskill the Pitch Team to ensure they won.
The training delivery consisted of:-
1) A 2-day Presentation Skills Workshop for the core team of 6 people two months before the final tender meeting
2) A 2-day facilitation workshop (6 weeks before final meeting) during which the final pitch document was reviewed and client and competitor research conducted to develop the final pitch presentation.
3) A 2-day workshop took place the week before the final pitch meeting to work on positioning and delivery.
Penny Creswell, HR Business Partner was responsible for delivering the training for the Project Team:-
"We found ourselves in the exciting position of bidding for a very large contract but needed to ensure our team had the skills to perform at their best for the tender interview. My brief was to find a company that could guarantee results. I called on Excel because I had worked with them previously and trusted them to deliver."
"The team were all experienced presenters but we wanted something more than the usual. I knew Excel Communications would understand what I wanted and take this experienced

group of individuals to the next level. Excel taught our team to really connect with the client and use their years of experience to illustrate the strength of the BW team."
"The training was over a 3 week period and during this time neither the team nor the trainer stopped thinking about the project. His thorough preparation was second to none and he kept in contact with the team throughout, making sure they completed post-training work and were constantly considering what they could do to improve their pitch."
Penny Creswell, HR Business Partner
Results
The final stage of the process was an interview where the Project Team presented the tender document to the client's interview panel.
5 weeks later BW learnt that they had won their largest piece of business since the company was incorporated in 1999. They gained a prestigious new client and £25M of new business.
Conclusion and Quotes
The contract was successfully delivered by BW throughout 2015.
"We were really up against it with this project. At the time it was one of the largest tenders we'd bid for and everyone wanted to ensure we won. Excel not only understood this but joined us as part of our team effort. I asked them to deliver and they did."
Penny Creswell, HR Business Partner
About BW: Driven by innovation and characterised by transparency, personality and fit out expertise, London-based BW brings a commitment to delivering defect-free fit out and refurbishment projects to London and the south of England. Visit wearebw.com to view some recently completed projects, the externally facing team, or some recent company news.