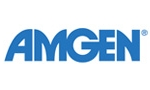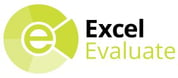 Background
Amgen is the world's largest independent biotechnology firm, headquartered in California, with European headquarters in Zug, Switzerland. The European Talent Acquisition Development Team completed a review of the leadership and personal development programmes that were in place to develop personnel across Amgen Europe.
Objective
A strategic decision was taken to look at the most common learning needs across all countries with the objective being to;
develop a more streamlined and centralized core program
improve program quality
improve learning processes associated with program access, enrollment and evaluation
The programme was called Learning for Growth, and the benchmark for average learner improvement after every workshop was set at 20%.
In order to measure performance pre and post workshop, an effective, accurate assessment tool was needed and the level 3 behavioural assessment tool (Excel Evaluate) from Excel Communications was selected.
is an evaluation tool that quickly and simply allows the measurement of people's performance and assesses changes in behaviour, as a result of training or coaching.
By tailoring the behavioural indicators to reflect your goals, you can evaluate the impact of training on people's performance. Excel Evaluate is available whether the events are conducted by Excel Communications, an internal training team or another provider.
Quick and Straightforward
The Excel Evaluate questionnaire is emailed directly to the managers of Learning for Growth program attendees as a pdf file. They will be requested to discuss key program outcomes with their direct reports to understand and assess their current and future capability.The managers then evaluate the performance of their registered staff member against the behavioural indicators; so it is a 180 degree assessment with manager input. On completion they click 'Submit' and the form automatically returns to Excel Communications for collation. Reports are then produced for individuals and can be rolled up to team or divisional level, as required.
Excel Evaluate gives you assessment that is:
Quantitative – comparing results over time and between individuals and teams
Objective – using agreed behavioural indicators related to your desired performance
Simple – using your existing email technology
Cost-effective
Action In Q4 Learning for Growth was launched – a pan-European programme that includes a 3-tier instructor-led development programme:
Leading People programs (for people managers only)
Personal Career & Development programs (for all staff; senior associates up to director level)
Cross-Functional Business Essentials programs (for all staff; senior associates up to director level)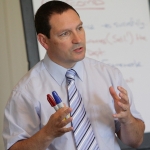 There were typically a total of about 40 programmes and on average between 500 and 600 personnel attend these workshops every year.
The flexibility of Excel Evaluate meant that it could be developed for use with Amgen's 7² System, which employs 7 questions around behavioural competencies related to the training workshop, and a scoring system of 1 to 7.
The Amgen process required the input from the managers of people attending the workshops, so the e-documents were completed by managers prior and post training event.
The changes pre and post workshop can be visualised clearly using the Excel Evaluate spidergram: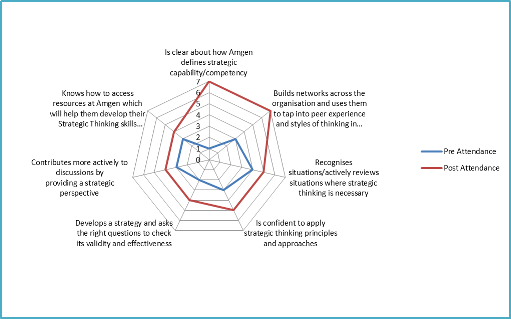 Outcomes
"Since the introduction of Excel Evaluate and The Learning for Growth Programme, the average improvement post workshop has been 27%.
The use of Excel Evaluate has been instrumental in the success of Learning for Growth and the overall quality of all our training workshops has gone up."
Director, Talent Acquisition & Development, Amgen Europe
"This new process for providing personal development programmes across Amgen Europe has led to:
improvement on managers owning the development needs and solutions for their team members
maximized program capacity with lower drop-out rates
greater impact of training on the job
"We have developed a great partnership with Excel Communications."
Talent Operations Manager, Talent Acquisition & Development, Amgen Europe

For more information on Excel Evaluate please contact:
Rachel Hewitt-Hall
Managing Director